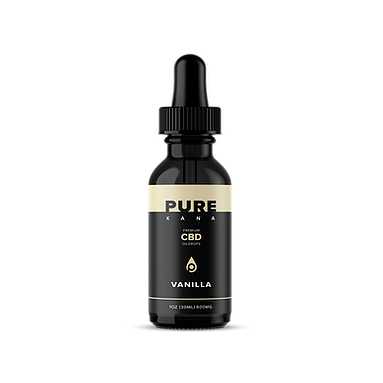 Purekana 600mg CBD Oil - Vanilla & Fruity Pebb
$92.00 $46.00
Made in the USA
Organic, Non-GMO
Full-spectrum of active cannabinoids
Free from pesticides, herbicides, solvents, and chemical fertilizers
Lab tested for CBD content
Less than 0.3% THC content



Vanilla CBD Oil 600mg
Fruity Pebbz Oil 600 mg


SIZE / VOLUME
1OZ (30ml)/40 Servings Per Container

TOTAL CBD
600mg

AMOUNT OF CBD
15mg of CBD / 1/2 of dropper

PRODUCT FACTS
Non-GMO
INGREDIENTS
Hemp oil Extract, MCT oil, Natural Flavors, Terpenes.

SUGGESTED USE
Take once or twice daily. Squeeze out 1/2 of the dropper, wait 60-90 seconds, and swallow.

600MG 30ML (1OZ) VANILLA CBD TINCTURE FROM PUREKANA
600 MG 30 ML (1OZ) FRUITY PEBBZ CBD TINCTURE FROM PUREKANA

As is the case with all of our products, our CBD tincture (600mg Vanilla and 600mg Fruity Pebbz) is non-GMO and includes NO herbicides, pesticides, solvents, or chemical fertilizers. Each bottle contains 30ml of liquid and comes with a convenient dropper.

Each full dropper contains 30mg of hemp oil extract CBD. Other ingredients include MCT oil and terpenes, and as it is a full-spectrum product, it also contains beneficial compounds such as flavonoids and phytocannabinoids.